"So you want to write a book?"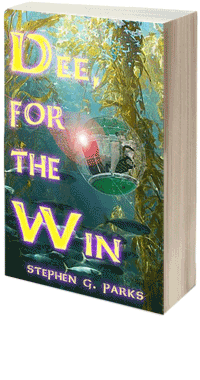 I got this question from a former co-worker on my last day in the office. My contract's up, the company is shrinking, lots of us are scrambling, looking for work. I'm taking a slightly different path.
After long conversations with my wife, we decided that I'd take at least a year hiatus from teaching to focus on my health and my writing (I had heart surgery just as the pandemic broke. My recovery has been stressful). We're fortunate enough to be in a position where that's feasible.
The comment struck me as showing how non-writers don't understand the writer's mind. I'm not going to write a book. I'm going to tell many stories. Let me tell you about what's in my head, what I've written, what I expect to complete (nowhere near ALL in this next year, not by any stretch).
It's so much more than "a book".
My stories range from Space Opera* to Steam Punk, to alt-Earth Fantasy with some forays into horror, and so much in between. This is what I've got in various stages of completion:
NOVELS:
A space opera trilogy:
• Tau Ceti (~135,000 words written so far) going through some plot-hole repairs. I expect this will be the first book I release.
• Sol, Its sequel, is at about 35,000 words.
• Laniakeia, a third book, outlined but may never happen, events in that story may get folded into Sol or released as short epilogue stories later.
Hryka (space opera, ~125,000 words) The first novel-length story I ever completed (around 1990), never released. It needs a re-write from a more adult perspective. It may get split into 3 novellas (40-50,000 words each).
Generation Gap (hard science, awkward title, plot outline, a few scenes written)
I'm leaning towards abandoning this idea. Generation ships have been done to death in the last 5 years with both Kim Stanley Robinson and Neal Stephenson weighing in.
Untitled Space Opera/Horror (A prologue and two rough chapters so far). Humanity starts colonising an abandoned world while trying to discover what happened to the previous occupants, a notoriously vicious species that vanished centuries earlier.
Untitled Historical Fiction – (scenes and outline) one day I'll be a good enough writer to write this.
A trilogy in someone else's famous universe.
(A few scenes, plot points for each book)
There's a writer whose work I adore. I'd love to write a trilogy that runs parallel to one of his most famous works. But unless his estate agreed to hire me to write this, I'd just be writing fan fiction, which can't legally be sold and I've got too much else to work on.
NOVELLAS-Series
9 linked books:
▪ A 5-book space opera series on smugglers being forced to pick sides in an escalating war (~100,000 words written across the five books, none complete as of yet)
▪ A standalone prequel that gives the back story of a key character in book 3 (outlined). Also lays the groundwork for other stories that aren't directly linked to the above series.
▪ A 3-book prequel focussed on the origins of one of the support characters of the 5-book series (maybe 5,000 words across five scenes written)
A 4 book series (~20,000 words written across all books) about an amoral time-travel
NOVELLAS – Standalone stories
A Godless Man (~20,000 words written) — On a parallel Earth with a similar mediascape but where gods are real, a god has been murdered and his high priest wants answers (think CSI meets Fox News). This was my NaNoWriMo 2019 project (just checked, it was 2018. I sat out 2019).
The Winds of Zephyr (9,000 words written)— On a dying colonized planet, an orphan joins the last city's defence force.
SHORT STORIES:
I've completed about 25 so far (I've sold 8 stories since 2015, including one last week for publication in an anthology next year.). As part of the promotional marketing for Tau Ceti, I may release many of these as two collections in Kindle Unlimited.
I've got story stems (anything from one sentence to a chapter or two) for another 20+ stories. At least five of these have a good chance of becoming full-fledged novels.
So I've got 20+ books (novels and novellas) in my head that need to come out and at least as many short stories.
So, yeah, technically you could say I want to "write a book." You'd just be off by a factor of ten.
– – – – –
NOTES:
*Space Opera stories may include aliens or faster-than-light travel. These are not "Hard" (scientifically accurate) stories.
Examples: Star Trek, Star Wars, etc.
Steam Punk is historical science fiction where steam technology created a different type of industrial revolution, changing our history.
Examples: Jules Verne, H G Wells.
NaNoWriMo – National Novel Writing Month: a yearly month-long event in which writers motivate each other to write 50,000 words in 30 days.
Novel = 50,000 words or more, 90,000 words or more is common for fantasy and science fiction
Novella = 17,000 -> 50,000 words
Anything less than 17,000 words is a novelette (between 12,000-17,000 words) or short story (less than 12,000 words).