I've had an idea in my head for a while, and along with it, a word: fanon.
It seems to me that there is a very real but simple problem in much of science fiction fandom. For our beloved universes, the wrong people get to decide what is canon.
I'm not deeply into the Star Wars mythology. Splinter of the Mind's Eye ("the sequel to Star Wars!") is one of the few Star Wars books that I've read, and I was growing beyond comic books around that same time.
I understand that LucasFilm (a.k.a. Disney) has moved a lot of material out of the Star Wars canon, making it 'legend'. I don't have a beef with that, because I don't know the rich history of the multitude of characters and myths that get lost by such a move.
Even as some people have been getting pissed that The Last Jedi is canon while Thrawn isn't (update, apparently he is now), I've been doing a slow burn over the other franchise that J.J. Abrams has wrecked: Star Trek.
Yeah, I'm an old-school Trekkie. I've been to those conventions (Met Jimmy Doohan once). I love Star Trek the Motion Picture. It's Star Trek's 2001: A Space Odyssey. I grok Spock. And I love Lucy. Basically I'm the type of fan that was being mocked in Galaxy Quest. And if you don't understand those references, then, well… you're young, aren't you?
The Kelvin timeline was an absolute annoyance. Chris Pine will never be my Captain Kirk, I'll never accept that you can beam the whole way to Qo'noS. Kahn was played by Mr. Roarke, not Sherlock Holmes.
I'm just old enough to remember seeing the Star Trek cartoons on Saturday mornings. And I loved catching the original series when it came on after school. I bought those giant poster magazines with the pull out posters of the Enterprise, Kirk at the OK Corral, etc.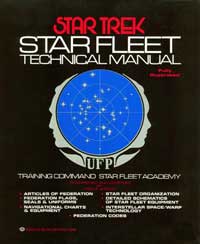 Hell, I owned the Starfleet Technical Manual (and also, somehow a tech manual on the cockpit of the Huey AH-1 Cobra gunship – don't mess with me, man, I got game!)
Over the years, Star Trek has made some questionable choices (like the theme to Enterprise. Everybody sing it now: "It's been a long road getting from there to here…"), but for me the most questionable was creating Star Trek: Discovery. This show isn't Star Trek and you can't convince me otherwise. It keeps trying to link to the existing canon, but in ways that are far more damaging than Enterprise ever was.
The bean counters at CBS, who may or may not have even seen Star Trek, are declaring what is and isn't canon.
And I've decided NO. You don't have the right to decide for me what is and isn't canon. I'm and adult, I'll do that for myself. And I'll call it "Fanon".
But this got me thinking about how I would define what is or isn't fanon in Star Trek.
First there are three simple rules that filter out much of the crap.
1) Spock is an only child.
This gets rid of Star Trek Discovery in its entirety, and also Star Trek V, a film so bad I can't even remember its name (The Final Frontier, I looked it up. You're welcome. Now forget it. Please. Uhura finally gets a boyfriend, and it's Scotty? Lass, ye kin do much better.).
2) Data is a singular and unique creation.
This gets rid of all of the stupid Next Generation stories involving Lore and removes B4 (and thus Star Trek Nemesis).
3) The Enterprise was built at Utopia Planitia, a facility based on Mars.
This gets rid of the whole "Kelvin timeline" in which the Enterprise was built on the surface of Earth and could do atmospheric landings. ("But, Roddenberry wanted that in the original series." Yeah, but he gave the Big E straight struts to mount her engines, not curved shit that would collapse.)
Those three rules clear a lot of the crap out of Star Trek, but of course, there are also singular episodes that may need to be culled from the remaining canon.
For example, the last episode of Enterprise, the one that turns the whole series into a holodeck reenactment designed for fat William Riker and thus undoes the whole series. Yeah that's gone. Along with it I'd throw out the Borg episode and the Nazi time travel episodes (I'm OK with the temporal cold war and the Xindi. I thought it gave an interesting look at the evolution of Starfleet's codes of conduct. I miss the MACOs).
I guess we should eliminate the Voyager episode where Janeway and Parris are turned into slugs and have sex.
There was a Next Generation episode where Riker gets stung by a flower and hallucinates his past. It was a clip episode, Nothing happened in it that we hadn't already seen – apparently he had no life before the show started and it'd only been on for two years.
Let's get rid of the "Tasha Yar fights a woman to the death" episode too. It was, well, racist.
Maybe because it was all I had for the longest time, but I have a hard time finding any original series episodes to cut from canon. I know many people dislike Spock's Brain or The Way to Eden, but I'll take them.
Additions:
I'd include Star Trek Continues as canon. It was a respectful and well-done extension of the original series, even if creator Vic Mignogna has become a troubling figure.
I've read a few Star Trek books, all original series crew, and I'd include them as canon, except maybe Spock Must Die. Even then, I could be talked into it.
What about you? What's your canon? What isn't? Who should get to decide what's truly canon, the fans or the money-grubbing weasels ("There is no bias detected in the wording of this question.")?
Hit me up with Star Trek, Star Wars or MCU.